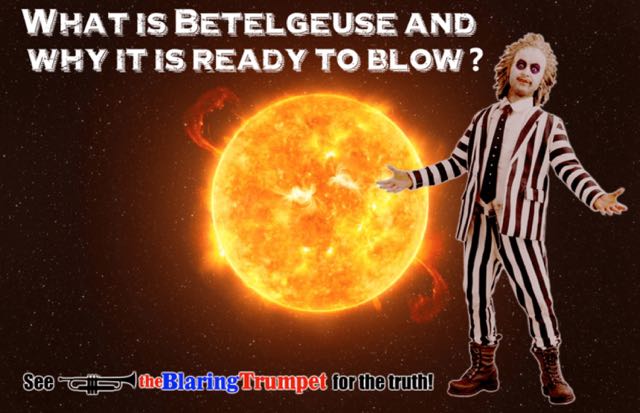 Betelgeuse And The Cosmic War In Heaven. Great Video And Explanation As To Who Our Spiritual Enemies Are.
Saturday, August 8, 2020 17:21
What If Betelgeuse Exploded Right Now?
At about 950 times bigger than our Sun, Betelgeuse is one of the biggest stars in our Universe. But that comes with a price. Just like us, stars have a life expectancy, and Betelgeuse is no different. It's a ticking time bomb that's ready to go, but we're not sure when. So, what if today was the day Betelgeuse went out with a bang? How would the Earth be affected? And will our Universe ever be the same?
Betelgeuse Is The Planet That Satan And His Followers Were Originally Banished To After The Cosmic War In Heaven
By Dr. Luke Prophet
A supergiant star might soon go supernova, but now shows signs of mellowing.
But what is the possible explanation for Betelgeuse's behavior?
(Read Full Article: https://beforeitsnews.com/christian-news/2020/08/betelgeuse-and-the-cosmic-war-in-heaven-great-video-and-explanation-as-to-who-our-spiritual-enemies-are-2587925.html)
______________________________________________________
Guest Posting
If you wish to write and/or publish an article on Operation Disclosure all you need to do is send your entry to UniversalOm432Hz@gmail.com applying these following rules.
The subject of your email entry should be: "Entry Post | (Title of your post) | Operation Disclosure"
– Must be in text format
– Proper Grammar
– No foul language
– Your signature/name/username at the top
______________________________________________________
Newsletter
If you wish to receive the daily Operation Disclosure Newsletter, you can subscribe here.
______________________________________________________
Our mission at Operation Disclosure is to bring you important news events and raw intel from various sources focused on exposing the Deep State/Cabal and their downfall. We are also focused on disclosing our lost ancient origins and extraterrestrial contact.
Disclaimer: All articles, videos, and images posted on Operation Disclosure were submitted by readers and/or handpicked by the site itself for informational and/or entertainment purposes. All statements, claims, views and opinions that appear on this site are always presented as unverified and should be discerned by the reader. We do not endorse any opinions expressed on this website and we do not support, represent or guarantee the completeness, truthfulness, accuracy, or reliability of any content posted on this website.